Sad Videos! Terrorists Flog Victims Of Abuja-Kaduna Train Attack, Threaten To Kill Them And Destroy Nigeria.
videos showing terrorists who attacked the Abuja-Kaduna train on March 28, flogging some of the victims they abducted during the attack has been shared online.
In the new video, the terrorists vowed to kill the victims if their demands are not met by the Federal government. The terrorists abducted 63 passengers including pregnant women and children during the attack in March. Negotiations between the terrorists and some of the victims' family members have led to the release of some victims.
ADD a REPLY to this post...
Nigeria∘Last activity 2 months ago
I have always dreamed of a Nigeria where an Igbo man and Hausa man will work together in love to achieve a common goal and that is exactly what this picture represents.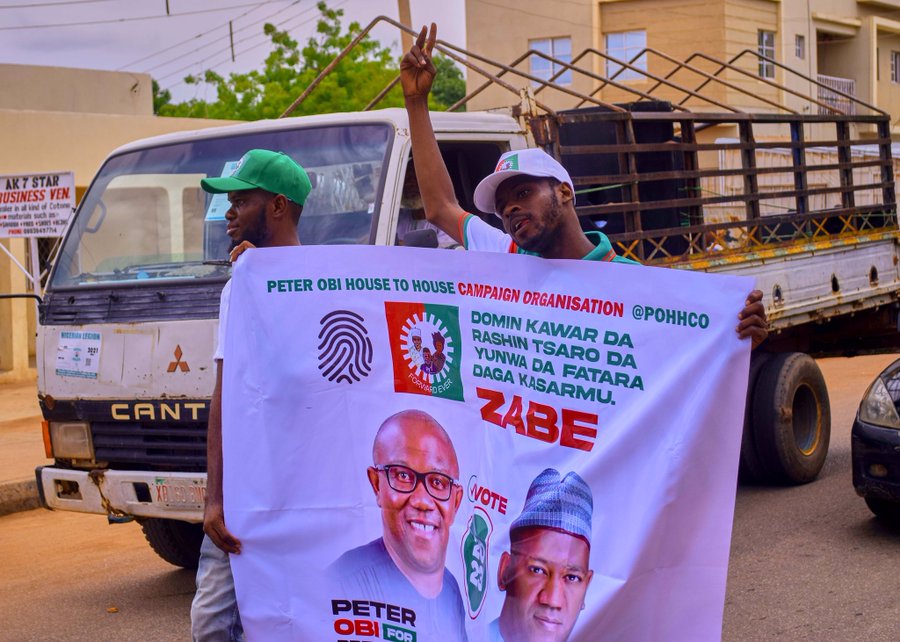 Thank you Peter Obi for bringing out the spirit of ONE NIGERIA. Nigeria will never be the same again
Nigeria∘Last activity 2 months ago
We need change. It's funny and I am offended when people say only Igbos are supporting @PeterObi
I'm a Muslim from Kano and I boldly stand with Peter Obi with all my heart. I'm doing my best to spread the Obidient mandate in Kano. Peter Obi is our next President Insha Allah.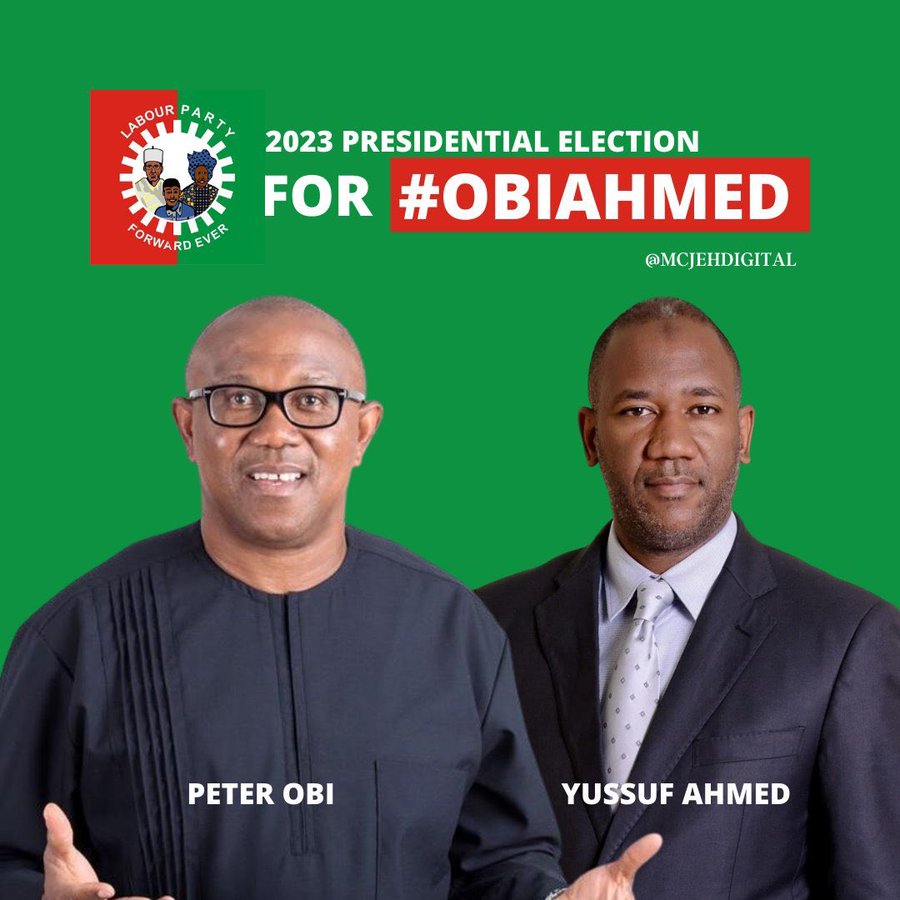 Nigeria∘Last activity 2 months ago
Sweet Jesus! See religion of peace people flogging their parents including little children. Those people are confirm animals with no human feelings. This really broke my heart.
This is so kind bugling, and yet they are all striving vehemently for the post of presidency. In a country that has a leader? Over 3 months? And this terrorist are operating without fear, with so much impunity? May God save us from bad leaders in Nigeria.
Please imagine if Yoruba boys or Igbo boys held these victims for 100days inside Nigeria and still collecting hundreds of millions. Tell me that nothing would have happened? Something is clearly wrong here. No protests, Naira and national grid falling over each other yet ...no one has been sacked!
This is APC's Nigeria, I only pity the next Nigerian president. He has already failed even before he starts. This is because things will actually get worse for the incoming president, with a very high debt burden already. The only way to stop this nonsense is to completely restructure Nigeria and let every region take care of itself. So, in that case, those who want to destroy their regions can go ahead without dragging others along with them. Either way, Nigeria is designed to fail by its present structure.
Nigeria∘Last activity 2 months ago
See aboki and Buhari government. Lol, and these people have the guts to say Muslim Muslim tickets will resolve Nigerian problems??? If its Southern or East that shoot 1 gun, the entire place would have burnt down. Go down on your knees and weep for a nation once called Nigeria. May it never be well with those who will vote APC in 2023 and may they suffer fate worse than this 😢 😕 😔 😞
Even if the victims are Muslims, my eyes still bleed. Even if am not the same tribe with them, my eyes are misty. God forgive us, Nigeria for the atrocities we witness and can't do anything against it. May all Politicians whose hands are in these, watch their loved ones tortured to death like this.
Look at these hungry looking animals, this is obviously a propaganda and business venture by the northern politicians to continue to divert resource attention to the north and ultimately continue to have stronger hold within the Nigerian political terrain.
Let the country break up into regions and see how this whole thing will fizzle out. They will begin to even beg people to cone and establish businesses in their region. I laugh in Yoruba! They don't have monopoly of brutality na, wetin we sef dey wait for in the west and east? Once we begin to treat and kill them like animals they are too, they will naturally reset!
Nigeria∘Last activity 2 months ago
And they all gathered in ICC Abuja for a shameless wedding of the kingpin's daughter. Shame on gullible Christians in APC... This is so so sad and painful, even women and children. Almighty God please intervenes in this country.
Who will bell the cat? Nigeria is at a crossroads and 2 things need to happen. The people revolt and violently take out the Buhari government now or wait and peacefully rake him/APC out in the 2023 elections and elect Peter Obi, who has shown himself to be the only serious candidate with a real economic and security plan to save Nigeria.
However, I fear Nigerians are not interested in either option. They talk a lot on social media, but it is all bluster. They never show up. What they prefer to show up to are owambe parties. The number of parties I see happening every week on metro file and bisi olatilo show is mind boggling.
Nigerians don't care. If they did, they will face the issues that threatens their very existence instead of throwing parties at will and showing off Mercedes Benz cars and proclaiming God has singled them out for favor out of the multitude suffering. That's what that pamilerin guy was doing.
Nigeria will change when Nigerians are tired of this bullshit. But until then, sorry for you.
Nigeria∘Last activity 2 months ago
Wow... "With frequency even the most Grotesque becomes normal", that's how numb and inured to barbaric Inhumane cruelties and Abnormalities, that this selfish, irresponsible, tactless, egocentric Buffoons of politicians have made US, imagine can't even cry.
I ran out tears some while back... Don't even know how to be angry about it; It's become cliché...Lord this fucked up nation has rendered me insensitive to things that normally should make me wait. America has "1" citizen kidnapped by terrorist, the whole institution is on high alert and tensive mood...
CNN keeps it on repeat... But right now, "1000" people being kidnapped would not last 24hours on CNN. (Even the outside world doesn't find our woes newsworthy anymore)
More Painful is the fact that it wouldn't even draw any sense Distress or urgency from this Jokers of leaders... "Cause it has become a "normal" occurrence that wouldn't set the populace off". my GOD not let us become so accustomed to BAD so much that we don't even know feel BAD about it anymore... it is finished. (P.S a Tear finally dropped) 😢
Nigeria∘Last activity 2 months ago
That's what you get in a country where religion, ethnicity bigotries are voted to power instead of competency. Now Peter Obi is here forecasting what will happen to Nigeria in future if APC or PDP is voted in. But the North is saying that they'll vote their incompetent brother while the other one said that it's his turn to become president of Nigeria 😂
There is nothing to say again you refused to allow the Igbos to take the lead, but faith failed you and now you want to use Atiku as an escape goat, stop crying loud Obi is there to rule.
BHUARI HAS FAILED TOTALLY
My country has failed me. GOD, please take charge IJMN AMEN
Nigeria∘Last activity 2 months ago
Terrorist are now commander in chief.. Finished government. I am scared of Watching this. Tinubu recommended this Man called Buhari. Yet Tinubu has been singing praises of his good performance and some people are saying we will support Tinubu. The Man Tinubu does not deserve upto One Million Votes Nigerians. He has to come out openly to say Buhari failed before he could be considered. Period
If Buhari's son was one of them, these people would have long been captured.
Nigeria∘Last activity 2 months ago
The sooner the crop of politicians and sponsors are publicly disgraced and killed the better. The current Buhari government infiltrated with terrorists and their sympathizers the better. No AK 47 gun carrying soldier or soldiers can with confront groups of terrorists with their bandolier belt fed rapid fire automatic machine guns that has the capacity to carry a minimum of 200-300 rounds of ammunition.
It's sure suicide if any soldier tries it especially when their enemy is ready to fight to the death, no retreat, no surrender. The military camps in dangerous zones are barricaded with armored tanks and ready to fly in fighter jets if an incoming attack is discovered the ones, we hear soldiers killed are either ambushed or caught when they are in small numbers, informants. To make it more difficult they use willing villagers who act as human shield. it's only when senior military officers from colonel upwards are ambushed and killed in numbers when on patrol that they launch counter offensive.
If the government was serious, a time period will be and announced to Innocent farmers, herders, the villages surrounding their major strongholds and enclaves to vacate. After expiration. of that period, a coordinated coalition of fighter jets, jet bombers and heavily armed soldiers with bandoliers worn, with a battalion of armored tanks would be launched and destroy any living thing seen, if stu headstrong villagers who did not evacuate that area during the grace period when the opportunity was given, they all should be wiped.
But Buhari for reasons best known to him does not want to go that drastic route which is of necessity. That was the strategy Late Yar adua used when soldiers cordoned off that area in Maiduguri and carried a major military campaign which led to killing of Mohamed Yusuf and some of his lieutenants. Bomo Haram went underground for some time before relaunching again when Goodluck was serving his own tenure. Same strategy Obasanjo used when some group of security forces were ambushed and killed. With the exception of kids and older women, the whole village was brought down.
The international community did not seem.it war crimes, instead obj is junketing all over receiving awards from other countries. It is more baffling that Buhari a retired general who during his hey days fought in the overthrow of Ironsi and actively participated and fought in the civil war where millions of Nigerians were killed both civilians and military. so, I refuse to believe it's because of emotions and sentiments making him dilly dallying and using the carrot and stick approach.
There is a more seriously more sinister and dark side to this behemoth of a problem we have in our hands. we need a prepared and rugged president who will do the needful once and for all. The families of the respected northern elders have been released leaving these ones to their fate. I have always said with an unbiased mind, the north is the most politically structures and organized and it's ruing is centralized at its core irrespective of party affiliations.
Nigeria∘Last activity 2 months ago
Many of these northern Muslims will still support Muslim Muslim tickets, vote a capable president in that will destroy the terrorist, no they will still say sai Baba, an attack on the extremists is an attack on the north and later suffer the brunt. As long as you Muslims only suffer from the jihad you all support from your so-called brothers called terrorist, I don't give a damn, but pray that non extremist Muslim don't get involved in the share of pain you guys are causing the world. When someone is killed for slightly talking down on their religion, all most all of them are happy but when the Islamic extremists strikes, they are looking for sympathy, you all better know where you stand.
That is the Hausa Fulani people and culture and Fulani militia that wants us to be in One Nigeria with them. Ahmadu Bello said in 1960 after independence that Fulani people must dominate Nigeria and never allow the natives to ever govern themselves. And Nigerians are watching as another Fulani man wants to govern Nigeria after a fukani man
Please let's get the international community involved. Our security infrastructure and their leaders has failed Nigerians.
Nigeria∘Last activity 2 months ago
You do realise every single thing should have stopped by now in that useless country so efforts can be concentrated on finding those things people. The train line has started running again….
What kind of country is that. How can 100 million be moved in a country and the authorities cannot track its movement…. This is very sad to watch.
And some are insisting on Muslim Muslim ticket! Muslims (northern) have not even helped themselves talk less of adding value to the country. All they are good at doing is arranging lavish weddings for their children with almajiris lining the roads while their convoy of luxury cars drive past.
1954 followers
Last activity 2 days ago
---